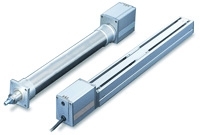 ROBO Cylinder ERC Series by Intelligent Actuator
Introducing the ERC Series

*Easy to Use, Low Cost Alternative to Air Cylinders

*Electric actuator utilizing a ballscrew, linear guide, and stepper motor.

*Can help raise your production efficiency level and save you 67% in running costs compared with pneumatic cylinders.

*Specifically designed to be easy to use for anyone. You can be up and running in minutes.

*Gives you the ROI you desire with prices starting from $560.

*Allows for multi-point positioning of up to 8 points.



Ease of Installation / Operation
The ERC is easy to set up and operate because the controller is integrated into the motor compartment. Just connect the actuator to your PLC with an I/O Cable, supply it with 24V DC power, and you're ready to go! Even without connection to a PLC, you can verify movement and Position Complete inputs with the teaching pendant or PC software.

Multi-point Positioning of up to 8 Points
Complex movements can be performed swiftly with either the Slider type or Rod type, thanks to a maximum of 8 positioning points. Also, the ERC is equipped with standard functions such as Pause and Zone Output, making difficult operations for air cylinders look extremely easy.

High Accuracy
The ERC utilizes a highly accurate ballscrew usually available only in more expensive actuators. Compared to a leadscrew, a ballscrew features less frictional resistance resulting in minimal wear. Smooth operation and highly accurate positioning can be maintained over the long term.

Compact Space
The controller is located in the motor compartment, thus eliminating the space requirement for the controller in the electrical panel.


For More Information, Please Contact Us At:
Proud Company
325 S. Main St.
Pittsburgh, PA 15220
Phone: (412) 838-0230