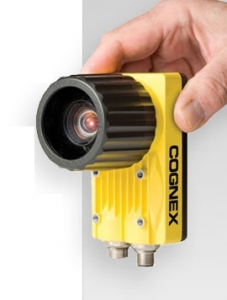 In-Sight 5605 by Cognex
Related Technologies:
The unprecedented vision power and unmatched ruggedness of the In-Sight® 5000 Series vision systems are helping manufacturers around the world improve productivity, ensure product quality and lower manufacturing costs. And, an array of In-Sight models means that there's one just right for your application.

Industrial-Grade Design…
In-Sight 5000 Series vision systems are the only vision systems in the world that provide
industrial-grade features as standard. Rugged die-cast aluminum and stainless steel cases
that can withstand the punishment of vibration, sealed M12 connectors, and a protective lens
cover for IP67 and IP68 rated protection against dust and moisture—it all adds up to peace of
mind on the factory floor.

Unmatched Performance…
Every In-Sight 5000 Series vision system delivers best-in-class performance. Most models are equipped with a full library of proven Cognex vision tools through the easy to use In-Sight Explorer software. Tools include easy-to-train code reading, OCR, inspection, measurement and color tools plus, PatMax®, the industry standard for part location technology.

New High Resolution Application Possibilities…
The new 5 MP (megapixel) In-Sight 5605 vision system combines industrially rugged In-Sight 5000 series hardware and best-in-class vision tools with a high resolution imager for the ultimate standalone vision system. The In-Sight 5605 system is ideal for high accuracy defect detection and gauging applications and allows a larger field of view making it easier for the vision tools to accurately find the features of interest on even large size parts, products, and packages.
About Cognex

Cognex is the world's leading supplier of machine vision sensors, or computers that can "see". Cognex's machine vision sensors gauge, guide, inspect, count, and identify products on the fastest production lines.

Cognex's proven technology, application expertise, and worldwide support mean customers can rely on Cognex to deliver machine vision solutions that work every time - even under the most difficult factory floor conditions. In the industrial machine vision market, Cognex has supplied more vision products...over 300,000... than any other company.