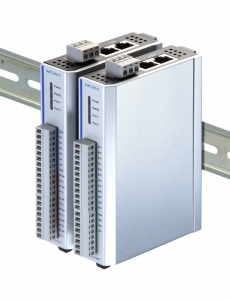 IoLogik E1200 Series by Moxa
Related Technologies:
Ethernet requires infrastructure equipment such as switches for connecting a variety of different devices to the network. This is unlike most field-bus automation networks that use a daisy-chain topology, which presents a bit of a problem for Ethernet automation applications since, when connecting to Ethernet, meters and gauges must be formed in a "star" configuration. The ioLogik E1200 series provides an alternative to spending the time and money needed to figure out the best way to hook up your Ethernet switches. Since each E1200 unit has two built-in Ethernet switches, the E1200 solution is tailor-made for a daisy-chain type configuration.

A new daisy-chained Ethernet I/O concept is now available. The ioLogik E1200 industrial remote Ethernet I/O has two embedded Ethernet switch ports that allow information to flow to another local Ethernet device or connect to the next ioLogik in the daisy-chain. Applications such as factory automation, security and surveillance systems, and tunnel monitoring, can make use of daisy-chained Ethernet for building multi-drop I/O networks over standard Ethernet cables. Many industrial automation users are familiar with the multi-drop configuration typically used in fieldbus applications. The daisy-chain function on the remote Ethernet I/O ioLogik E1200 not only increases the connection
between machines and panels, but also lowers the cost of buying separate Ethernet switches, and at the same time reduces labor fees and cabling by a large percentage. For example, if a production facility contains 700 stations (20 points per station), the wiring cost reduction can reach 15% of the total implementation cost.


For more information on ioLogik E1200, or to request a quote, contact Mark Proud Jr. at The Proud Company today at 412.838.0230 x104 or via e-mail at mjproud@proudco.com.
About Moxa

MOXA focuses on creating data networking products that provide system integrators and end-users with reliable and cost-effective serial-to-Ethernet, industrial Ethernet, and serial-to-PC solutions.

MOXA's product lines include multiport serial boards, serial device servers, industrial Ethernet switches, video over IP servers, and front-end embedded computers, and our customers come from a wide spectrum of business fields and endeavors, including industrial automation, POS/retail, telecommunications, financial services, security systems, traffic automation, and building automation.

Buying from MOXA is not just about buying products. Moxa�s outstanding sales team uses a customer-oriented approach that forces them to listen carefully to the needs of the customer. And the MOXA R&D team cooperates closely with our technical support engineers to solve customers� problems and answer questions about how to set up or use Moxa�s products. Adding in Moxa�s standard 5-year product warranty, what you get from MOXA is truly a 3-in-1 package of:

Reliability
Professional Service
Quality Assurance

To date, at least 7,000,000 devices have been installed worldwide with the help of MOXA products. MOXA is the No. 1 brand of multiport serial solution in the worldwide industrial market, and one of the top three serial device server manufacturers.