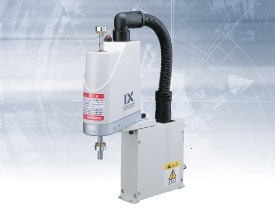 IX-NNN And NNC Ultra Compact SCARA Robot by Intelligent Actuator
Related Technologies:
A Palm-Sized SCARA Unit Capable of Driving a Maximum Payload of 1 kg

The new SCARA model of 180 mm arm length and cleanroom specification were added to the lineup, further extending the utility and applications of the IX-NNN / NNC series SCARA.


Features:

1 – Standard and cleanroom specification SCARAs are available in three arm lengths of 120mm, 150mm and 180mm

2 – Optional connector-type cables for connection between the controller and SCARA
The motor/encoder cables can be specified as connector types (optional) for added ease of handling and replacement.

3 – The SCARAs compact size is ideal for installation in limited space
A maximum SCARA work envelope of 360mm can be ensured in a small installation space of 47mm (W) x 132mm (D), enabling substantial size reduction of your production line.

4 – The Ultra-compact SCARA is powerful – Offers a rated an maximum load capacity of 0.2 kg and 1 kg. The SCARAs despite their small size, a 0.2 kg load can be transferred at high speed. If the acceleration of the SCARA is reduced, a load of up to 1 kg can be transferred. *The rated load capacity of the SCARA indicates the maximum weight that can be operated at the maximum speed and rated continuous acceleration. The maximum load capacity of the SCARA indicates the maximum weight that can be transferred at lower speed and acceleration by the SCARA.

5 – The high-speed performance of the SCARA achieves a cycle time of 0.35 second
The dynamic performance and highly rigid body of the SCARA ensures outstanding high-speed performance that is among the best in its class. *The cycle time of the SCARA was measured on the IX-NNN1205 based on reciprocating movements over a horizontal distance of 100 mm and vertical distance of 24 mm, carrying a 0.2 kg load.


About Intelligent Actuator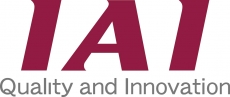 Founded in Japan in 1976, with American headquarters established in 1989, IAI designs, manufactures, and markets a complete line of motion control systems. As the established world leader in linear actuators and low cost, high performance SCARA robots, IAI provides over half of all linear actuators sold in Japan and are a leading source of advanced plug & play automation throughout North America and the world.

With the introduction of a full range of ROBO Cylinders, IAI is also leading the transition away from pneumatics to cost-effective, low-maintenance, and fully-programmable electric cylinders.

Instead of building a robotics system from scratch, design engineers can purchase fully-functional units from IAI and begin production sooner.