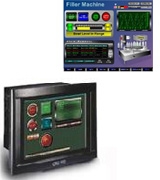 HMI Visualization by Parker
Related Technologies:
Parker's Human Machine Interface (HMI) software and hardware are designed specifically for OEMs who sell and maintain machines all over the world. Improving the effectiveness and increasing the value of manufacturing equipment.

Parker HMI includes:
•Windows HMI series Interact X faster and easier to develop
•Panel Tool Library for fast and easy screen development
•Life-like graphic capability
•Free form animation, unlimited colors
•ActiveX third party tool support
•Plug & Play support for vision, trending, media players and other third party tools
•Recipe Management - including Nested List capability
•OPC Client Interface

HMI Product Offerings from Parker

Parker offers a full range of both software and hardware HMI solutions including:
•Human Machine Interfaces
•Industrial Computers
•Industrial Monitors
•Service Programs

As a pioneer in the HMI industry, Parker understands the needs of automation users and translates those needs into innovative product solutions.

With the convenient MachineShop toolbar, you have instant access to intuitive Project Management and PowerStation Transfer tools. This makes it easy to manage, create and transfer applications.

About Parker

Parker offers a wide range of motion control systems to meet any application need. Designed for easy configuration to make a complete motion system - from miniature precision for life sciences to overhead gantries for the factory floor -these best-of-breed individual components are available separately, or as a complete motion system to make integration simple, fast, and easy. High-quality products delivered when you want them!