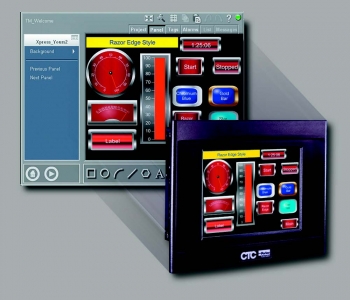 Interact Xpress by Parker
Related Technologies:
Distributed HMI

Take Full Advantage of the Web for HMI Design, Publishing, Runtime and Support. This affordable Human-Machine Interface (HMI) solution fully leverages the wide availability of web browsing software to enable distributed HMI software, remote support and application sharing on the Internet and IP Networks Interact Xpress HMI applications are developed, edited, published and run in an HMI that is a Web Server, allowing users and OEMs to easily publish upgrades and applications to any global location with an Internet connection and a web browser.

Interact Xpress combines a rich, graphical runtime interface with HMI development tools that can be accessed from either the HMI panel or any PC running Internet Explorerฎ.

• Sophisticated graphics look and feel with ease of development
• Integrated Web Publishing capability for distributed applications
• No version control issues with Web published development.
• Applications can be served, created and edited online from any PC with Internet Explorer.
• Available offline, development software allows work on applications when a live Internet connection is not available.
• Advanced security for single or multi-user applications
• Tools for historical alarm data
• Capacity for complex graphics and animations
• Standard Ethernet port for both networking and controller communications
• More than 35 device communication drivers
• Unlimited tags
• Color depth to 262,144 colors
• XPR PowerStation industrially-hardened hardware with steel backshell construction
• Industry-leading 2-year warranty
About Parker

Parker offers a wide range of motion control systems to meet any application need. Designed for easy configuration to make a complete motion system - from miniature precision for life sciences to overhead gantries for the factory floor -these best-of-breed individual components are available separately, or as a complete motion system to make integration simple, fast, and easy. High-quality products delivered when you want them!